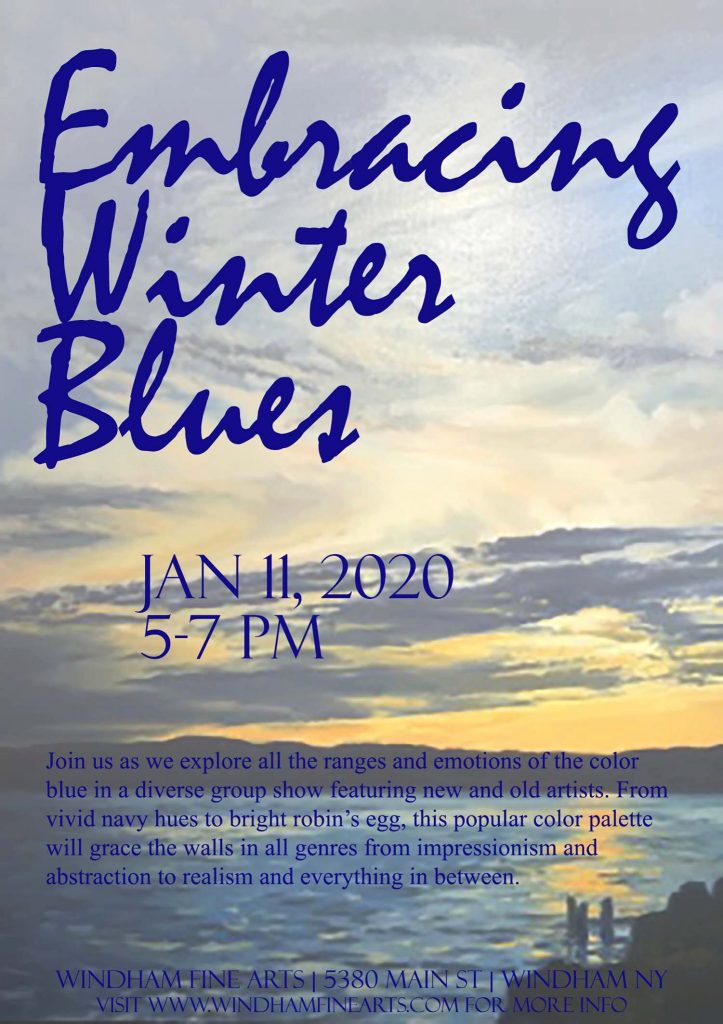 A Timeless Classic Reimagined for the New Decade
Please join us Saturday, January 11, 2020 from 5:00 to 7:00 pm, for the opening reception of "Embracing Winter Blues." The show explores ranges and emotions of the color blue featuring new and established artists. From vivid navy to bright robin's egg, this timely color palette graces our walls. Named the 2020 color of the year, blue evokes a sense of calm and inspires stability.
Evocative skyscapes and winterscapes display the varied hues of this soothing color, from artist Mara Lehmann. Her soft and ethereal winter scenes join the pristine and precise strokes of Anne Johann's, bringing the viewer through a spectrum of tones and feelings. Newcomer to the gallery, Ken Salaz, thrills with his vivid and hyper-realistic visions of star-studded skies and sweeping crepuscular vistas.  
Opposite but not at odds, are the works of Gina Blickenstaff. Gina delights and inspires with her whimsical and fantastical landscapes, a loose interpretation inviting the viewer in, through and around a wondrous world inspired by emotion and color. Abstract and organic, print work by Nancy Previs draws us further into the tonal spectrum, where shapes and shadows morph and shift in a multi-layered play of ink and texture. Bridging the gap, Kim Do a well-known landscape artist of the Hudson Valley, displays his new works of the region with a masterful play of warm and cool versions of blue.
"Embracing Winter Blues" promises to inspire!
Windham Fine Arts, 5380 Main Street, Windham, NY 12496. Hours: Fri & Sat 12:00 – 7:00, Sun & Mon: 12:00 – 4:00, 518-734-6850. www.windhamfinearts.com