Windham Fine Arts Hosts 16th Annual Wine Auction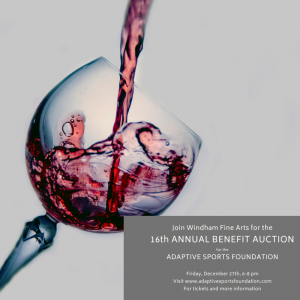 Friday, December 27th from 6 – 8:00 pm 
On Friday, December 27, Windham Fine Arts opens their doors once more to host the 16th Annual Wine Auction to support the Adaptive Sports Foundation (ASF), a non-profit offering outdoor programming to adults and children with disabilities.
For ONE day only, all proceeds from the wine auction go directly to supporting programs at ASF, including 20% of all art purchases. Celebrate the gift of giving this holiday season by purchasing art and supporting a great cause!
Read the press release HERE for more information!