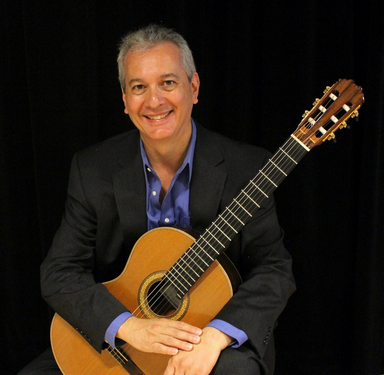 On January 19th, Windham Fine Arts Gallery hosts Blackdome Presents featuring Francisco Roldán, a classical guitarist from Columbia who currently lives in New York City. Francisco Roldán performs nationally and internationally as a soloist, with chamber ensembles, and with orchestras. He has performed in the U.S., Portugal, Greece, Russia, Colombia, Argentina, the Dominican Republic, and more. His venues include concerts at for Lincoln Centers' programs, the Metropolitan Museum of Art, and the Smithsonian Library. Roldán has been entertaining audiences since his early years at the Mannes College of Music, where he attained his master's degree. His successful career as a soloist launched in the spring of 1993, when he performed a New York debut recital at Carnegie Hall.
Blackdome Music Festival is sponsoring the evening: https://www.blackdomemusic.com/winter2018-19/. Yako Stavrolakes, Founder of Blackdome, worked over 18 years in the music industry, from artist management, to working with concert presenters, music festivals, and renowned artists. After experiencing the music industry from all different angles, Yako decided to create something of his own, combining his various interests into a music festival in the picturesque setting of the Catskill Mountains.
Windham Fine Arts is pleased to be hosting the event on January 19th to commemorate Francisco and the masterful elaboration of Latin American culture in his guitar playing. The night will consist of a pre-concert reception with wine and cheese from 5:30-6:30, followed by Roldán's riveting performance. The rest of the evening will leave plenty of time to chat with Francisco and discuss his fascinating background and lifestyle.
Other artists highlighted in the gallery include: Ruby Reichardt and Kevin Cook. Ruby was born in the Netherlands and made her way to the states after moving to New York to launch her career. She will be exhibiting oil on paper works at the gallery. Kevin Cook is another artist who provides a touch of tonalism to his beautiful landscape paintings of the Catskills.