Windham Fine Arts Hosts 16th Annual Wine Auction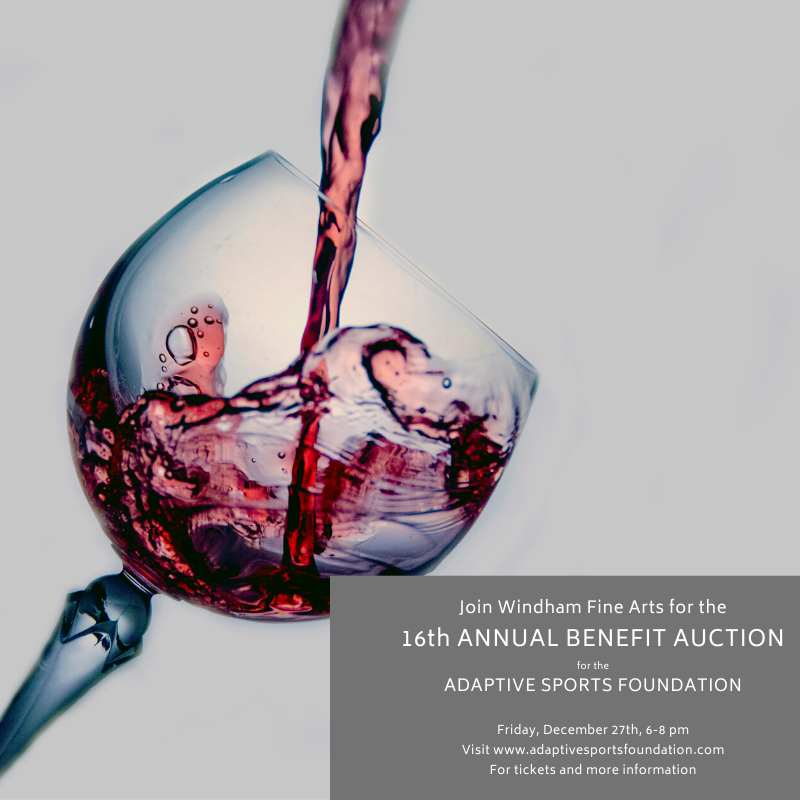 On Friday, December 27, Windham Fine Arts opens their doors once more to host the 16th Annual Wine Auction to support the Adaptive Sports Foundation (ASF), a non-profit offering outdoor programming to adults and children with disabilities.
This event begins at 6:00 pm with wine tasting hosted and curated by the Hudson Valley Wine Merchants, alongside the finest of French cuisine from Bistro Brie and Bordeaux. The wine auction follows offering top-rated wines in standard, magnum, jeroboam, and methuselah size bottles— rare finds from around the globe. A special thanks to Ridge Vineyards of California for donating to this distinctive event.
Marika Vida, Wine Educator for the famed Argentine Winery Catena Zapata, will serve as auctioneer and Master of Ceremonies. Entertainer Slam Allen brings the evening to a close with his unique musical blend of soul and blues. All proceeds from the wine auction go directly to supporting programs at ASF, including 20% of all art purchases throughout the day and evening.
Please join us on December 27 from 6:00 pm – 9:00 pm to support this great cause! Buy art and give even more. Contact ASF for ticketing options: www.adaptivesportsfoundation.org.
Windham Fine Arts wishes you a happy and healthy holiday season!
Windham Fine Arts, 5380 Main Street, Open: Fri & Sat 12:00 – 7:00 and Sun & Mon 12:00 – 4:00. Contact: director@windhamfinearts.com, 518-734-6850. www.windhamfinearts.com.